Fiore - Natural Deodorant 
"
Looking for a
fresh brand identity, packaging, and website design
for our startup natural deodorant brand - Fiore, meaning 'flower' in Italian. Our initial scents are 'wild rose,' 'eucalyptus mint,' and, 'peony and jasmine.' 
Fiore isn't like other brands. Although we are
sustainable and organic, we don't want this to be our focus point,
as we believe that this will become mainstream in the next few years. Instead,
we aim to be the go-to natural deodorant for the modern woman on the run, helping her to feel fresh and feminine in times of need such as that last minute tinder date.
Green for organic is a little boring, we want you to think outside the box and develop a bright, trendy colour palette that will catch the eye of our audience and really appealing to a 20-something woman. Our target audience already engages a lot with the beauty industry, so we need something new and radical.
Our Brand Values: Modern, Fresh, Feminine, Fuss-free
" 
-Wildflower Design Co.
I started brainstorming with mind mapping associative words and ideas from 'flower' as well as pulling inspiration from current color trends found on social media. The main idea that I was most inspired by was playing with the well-known phrase "You catch more flies with honey than with vinegar." Every time I've heard this phrase, it was in context of attracting someone's (romantic) attention. I decided to forgo the imagery of insects, such as bees or flies, and used a hummingbird instead since they're also known for being attracted to flowers.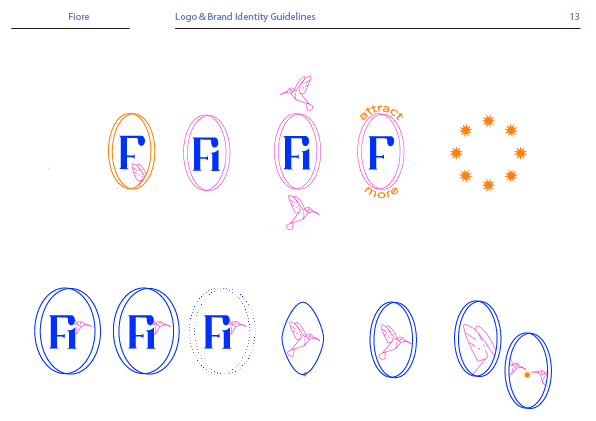 All rights reserved by Leanne Stephan.